The GitHub Student Developer Pack is back for another school year. The program has provided over 1.5 million students the best real-world developer tools and training for free since its introduction six years ago.
If you are a school/college student then you can apply for GitHub student developer pack.
What do they offer to students ?
Visit- https://education.github.com/pack/offers for offers.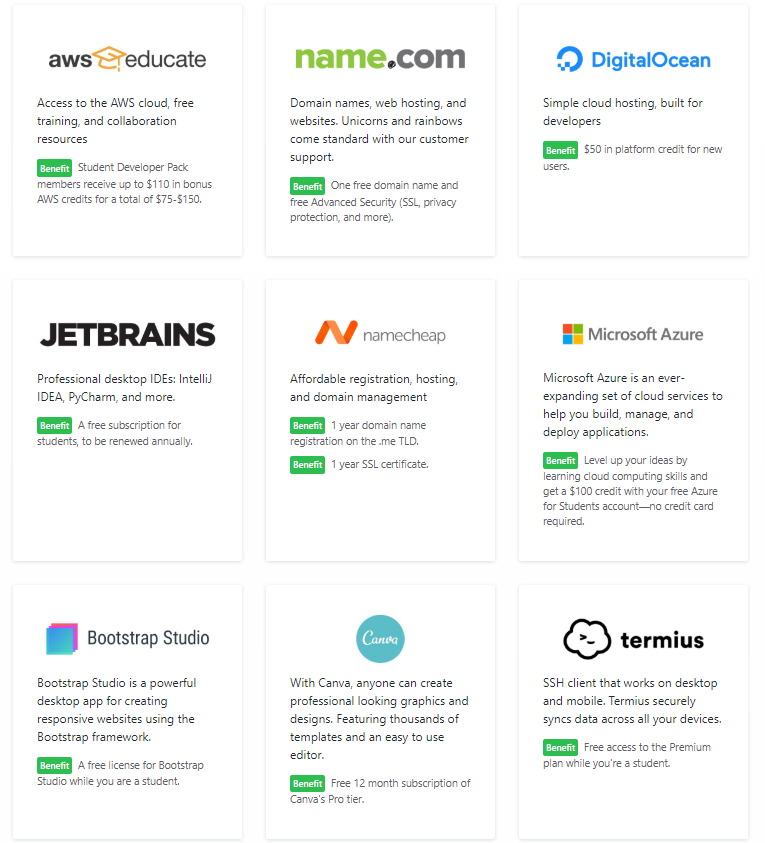 ---
---
Steps to apply:
First of all go to the following link: https://help.github.com/en/articles/applying-for-a-student-developer-pack
Steps:
Go to GitHub Education and, in the top right, click Get benefits.
Under "Which best describes your academic status?", select Student.
Select or add the email address you use for school. Tip: Selecting a school-issued email address, if you have one, gives you the best chance of a speedy review.
If prompted, upload proof of your academic status.( In case if you don't have .edu mail. You can user gmail too)
Upload an image of valid academic ID or other proof of current academic status (Ex. ID card, other proofs by your college/school.
Enter your school's name.
Describe how you plan to use GitHub.
Verify your application details, then click Submit your information.
If your application is approved, you'll receive a confirmation email. Applications are usually processed within a few days, but it may take longer during peak times, such as during the start of a new semester.
Note- It might take 10-20 days for approval process, In my case 14 days were taken
Best free tools from this pack:
✅Bootstrap Studio: desktop app for creating responsive websites using the Bootstrap framework
✅Microsoft Azure: set of cloud services to help you build, manage, and deploy applications
✅AWS Educate: reliable, scalable, and inexpensive cloud computing services, free training, and collaboration resources
✅Datadog: cloud-based infrastructure monitoring
✅Namecheap: affordable domain registration, hosting, and management
✅Heroku: flexible, easy-to-use platform to deploy, run, and manage your apps
✅Jetbrains: provider of professional desktop IDEs: IntelliJ IDEA, PyCharm, and more
✅Stripe: web and mobile payment APIs, built for developers
✅Frontend Masters: in-depth JavaScript, Node.js, and front-end engineering courses
✅Name .com: domain name registrar and web host
✅PushBots: scalable push notification system for mobile applications
✅Better Code Hub: online source code analysis service
✅LogDNA: log management platform
---